Heraldic Display in Ar n-Eilean-ne
I. Introduction
In my previous article, I introduced the many ways heraldry can be used to create a medieval atmosphere. This article discusses how we can have fun with heraldic display in our shire. I will leave aside what individuals can do, which is adequately described in the other article. Here I will focus on group heraldry.
II. Which Armoury Can We Use?
An SCA shire has no ruling lord. This puts us at odds with historical precedent for use of the shire arms; there is no individual entitled to wear them! Royalty may, but they have other clothes to wear. The shire herald, Grey Rock Pursuivant, or another herald acting as the voice of the shire may wear a tabard of the shire arms while acting in that official capacity.
The shire arms may be used on flags, as discussed later. The East Kingdom arms may only be displayed by royalty. There is a fieldless badge that may be used by any Eastern citizen: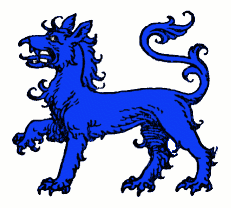 A tiger passant azure
Besides jewellery, decorative motifs, and other standard uses for badges, the "blue tyger" could feature on a shire standard, along with the main shire badge, and any other badges associated with our group.
III. Badges for Ar n-Eilean-ne
The shire needs badges. One would be used to indicate citizenship, via flags, baldrics, and jewelery. Another would mark shire property. Other possibilities would be badges for the shire champion and cumail. An example of a possible badge is the tower from the shire device, but white instead of black:

A tower conjoined to dexter with a wall argent.
IV. Shire Livery
Shire livery is clothing that would be used to demonstrate a connection to the shire. A key element of the livery is the choice of colours. One possibility is to pick two main colours from the shire device. For the examples here, I've chosen black and blue. Having two "colours" (as opposed to "metals") allows a badge to be displayed on the cloth across the line of division. This is important on flags, also.
Shire baldrics and tabards could be worn by shire officers, members of fighting units, or shire citizens when they want to create a strong visual impression of unity or ceremony. Such tabards could also have a badge of office (possibly a detachable pin) worn at the right shoulder.
A tabard of the shire arms can be worn by Greyrock Pursuivant when performing the duties of that office. Another person acting as shire herald, but not holding the title, could wear the same tabard "athwart".
| | | |
| --- | --- | --- |
| | | |
| Tabard for Grey Rock Pursuivant | Shire Tabard | Shire Baldric |
V. Shire Flags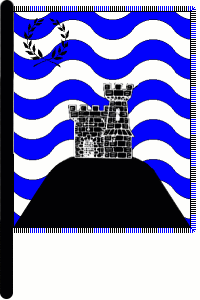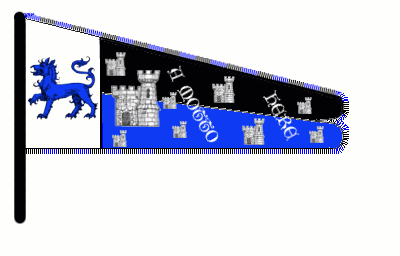 Shown above are a banner and a standard for the shire. The fringe colours are the livery colours, chosen as discussed above. The only other choice needed to design the banner is the height-width ratio. The standard is a different story. Here, there are many choices. The colour of the field under the tiger is up to the designer. It must contrast with the charge, so a metal is dictated. Argent (white) makes for the most unified design. The other field colours are the livery colours. The double-rounded end is a stylistic choice appropriate for a bi-coloured field. With all standards, you would scatter small versions of badges on the divided field, as done here. In this example I've used small versions of the tower badge. If there was another badge, you would probably use that instead. Another possibility would be to use the badges of shire citizens as well. A short Latin motto must also be chosen.
V. Conclusion
The examples here are simply a few possibilities from amongst many choices. I hope they will serve to demonstrate some of the wonderful opportunities for pageantry that heraldry allows us.
VI. References
---
---
October 9th, 1998. Modified May 20th, 2001. Andrew Draskóy
This page was created by Miklós Sándorfia, of Ar n-Eilean-ne, a shire of the East Kingdom. All graphics by the author save the tyger, which is adapted from Fox-Davies Complete Guide to Heraldry (1909).